Strengthening and Empowering the Federal Workforce
JULY 2022
Download PDF
Progress
Cross-agency teams are advancing the PMA Workforce Priority across the identified Strategies and Goals, with cross-functional representatives from many agencies participating. These teams have been scoping the activities to support their goal statements, working to understand challenges, and exploring a broad range of solutions. Milestones included in this update represent initial foundational work to implement this Workforce Priority.
INITIAL MILESTONES
Conduct stakeholder engagement sessions (FY22 Q4)
Identify promising practices that could be scaled Government-wide across the goal areas (FY22 Q4)
Determine additional activities or deliverables to support progress toward goals (FY22 Q4)
Develop priority-level metrics (FY22 Q4)

PRIORITY AREA LEADERS
Kiran Ahuja
Director
Office of Personnel Management
Dr. Kathleen Hicks
Deputy Secretary
U.S. Department of Defense
Julie Su
Deputy Secretary
U.S. Department of Labor
Overview
Challenge
More than 4 million Americans—including more than 2.1 million Federal civilian employees—work for our Federal Government, both at home and overseas. To be a Government for all Americans, we need to focus on those who keep our Government running and deliver services each day. Given the changing nature of work, new technology, and the evolving skills needed to meet the challenges of today and tomorrow, we must invest in our public servants who are the backbone of our Government.
Opportunity
Federal agencies must attract, hire, develop, and empower talented individuals who are well suited and well prepared to face the challenges the Government faces, both in the near and long term. Agencies must also use what they have learned about the resilience and adaptability of the Federal workforce to make the Federal Government an ideal, modern, and forward-thinking employer. As Federal agencies continue to chart a path forward together on the future of Federal work, they will engage with public servants as well as stakeholders within and outside of Government to make every Federal job a good job and give our workforce what they need to succeed.
Priority-level success metrics
Create a more equitable employee engagement experience across the Federal workforce, including across employee groups and organizational units within agencies
Increase agency Federal Employee Viewpoint Survey (FEVS) Employee Engagement Index (EEI) scores by narrowing agency-identified gaps in EEI by employee group or organizational unit by 20%.
Agencies will select an EEI subfactor (Supervisor, Leaders Lead, Intrinsic Work Experience) or a minimum of three FEVS questions as topics to target for action and quantifiably improve results on these factors/questions. Subfactor/questions should be chosen due to overall low score, gaps across employee groups and organizational unit, or some other mission- or performance-driven factor.
Improve the Federal hiring process to efficiently hire the best talent
Increase the percentage of hiring manager satisfaction with the hiring process.
This survey currently is going through improvements to improve data collection and availability. A baseline and target will be assessed later this year once those improvements have time to go into effect.
Attract the right talent for the right roles
Increase the percentage of agencies meeting projected mission-critical occupation (MCO) hiring and staffing targets.1
Agencies will be asked to create robust projections for selected MCOs and report progress towards filling those goals in order to highlight areas of needed support to compete for talent.
Promote diversity, equity, inclusion, and accessibility (DEIA) strategies and practices across all human capital activities
FEVS DEIA Measures.2
Agencies will use their 2022 FEVS results, in addition to other DEIA agency assessments, to make progress towards the objectives of their agency DEIA strategic plans.
1 A new measure is being developed for Government-wide collection.
2 FEVS DEIA measures are being reviewed and finalized.
Featured insights
INSIGHT
SUCCESS METRIC
Employee engagement at Federal agencies increased during the pandemic
In 2020, the COVID-19 pandemic transformed the world of work. Results from the Federal Employee Viewpoint Survey—a Government-wide survey of Federal employees—suggest the conditions that contribute to engagement improved across the board. The Federal workforce at all levels responded to the crisis by showing their resilience and motivation to ensure that public services continued to be provided to the American people.
Federal employees were more likely to agree in 2020, compared to prior years, that their leadership was effective, there was meaning in their work, and they had the opportunity to learn and grow on the job. The Government-wide score for employee engagement increased from 68 in 2019 to 72 in 2020 (out of 100), for example. The range in agencies' individual scores narrowed dramatically.
The President's Management Agenda seeks to maintain momentum and achieve even higher levels of engagement across the Federal workforce.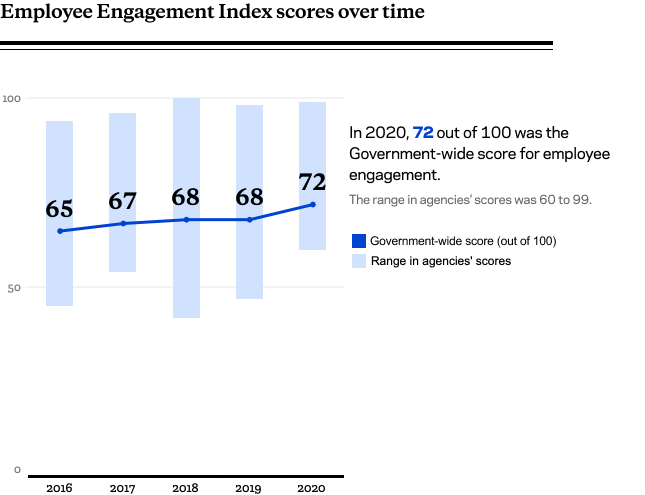 The Office of Personnel Management's
Employee Engagement Index
uses responses to the Federal Employee Viewpoint Survey to score conditions at agencies associated with higher employee engagement (e.g., effective leadership, work which provides meaning, the opportunity for employees to learn/grow on the job).
Some agencies scored above the Government-wide score, suggesting opportunities for agencies to learn from one another.
The Federal workforce seeks to draw from all age groups
As the country's largest employer, the Federal Government has an extensive and complex hiring process, which can hamper efforts to recruit and onboard needed talent. One result: comparatively low representation of young people across the Federal Government. With the growing need for new skill sets across agencies, recruiting the next generation of Federal civil servants is essential to the mission-effectiveness and long-term health of Federal agencies.